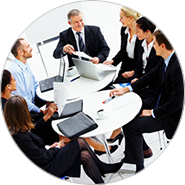 DEE
CALL
Buffet Package › FEATURES
w

DEE

CALL

Digital Trunk with Thailand

w

Superior digital international & domestic calling service


---
SIP Trunking (Session Initiation Protocol)
Digital PBX systems are
provided with SIP trunk lines and passwords for corporations to manage
their domestic and international calls via DeeCall.
Analog PBX Devices
For companies with Analog PBX systems, a device will be provided and
installed to route all International and local calls via DeeCall.
E1
DeeCall can be installed with your E1 circuit to allow you to make
crisp clear calls using our servers. DeeCall can be installed the same
way as the SIP trunking function.
BRANCH TO BRANCH


---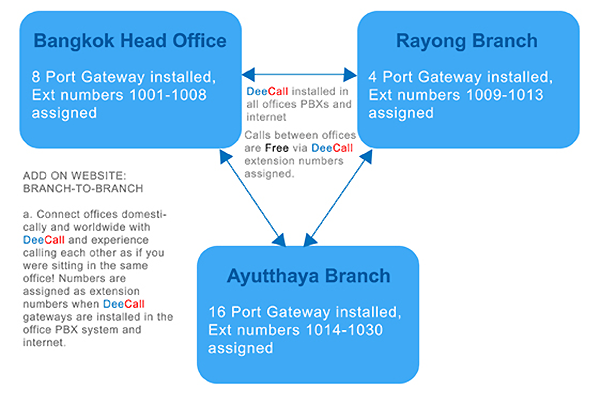 Connect offices worldwide with DeeCall and experience calling
each other as if you were sitting in the same office. Numbers are
assigned as extension numbers when DeeCall gateways are installed in the
office PBX system and internet.
Connect offices worldwide with DeeCall and experience calling
International numbers with low-cost rates. Using your IP-PBX, DeeCall
can be configured onto your telephone system using SIP in any country.
This will allow all calls to be passed through the DeeCall server. Bills
will be made to the Thailand office.
Assign a local Thai number or any other country phone number
to your offices overseas, and easily call that number from any phone
worldwide. This allows you to give local phone numbers to clients in
that country to make them feel you are nearby and reach you with a local
number.
Full Telephony Infrastructure


---
New companies that want to reduce overheads from installing a full
telephone network are urged to install DeeCall instead, For major
cost-savings.
Nevery Busy Phone Line
Companies are allowed to pick how many incoming simultaneous calls
they want instead of being limited by PSTN (public-switched telephone
network) restrictions.
Multi-User Technology


---
For Fixed Lines — Companies can decide which lines they want to be
connected to DeeCall through their PBX systems. This is done through SIP
trunking or installing a DeeCall device on their
existing Analog PBX system.
For Mobile Lines — Companies can register any number of mobile
phones with DeeCall to make international
calls.
DeeCall Mobile Application


---
DeeCall Mobile Application is available to smartphone users for
convenient dialing directly from their phone's phonebook.
Online Management


---
Live billing 24/7 that shows the duration and time of call, number
called and amount charged for the call. This makes it easy for company
to manage billing per person and to keep accounts.
Call forwarding


---
For the corporate travelers — Select the call forwarding option to
avoid heavy roaming charges. Local calls are forwarded at DeeCall rates
to your foreign SIM. If you do not have SIM card for the country you are
traveling to, please contact Matrix SIM (link to www.matrixsim.com)
Smart Call


---
Call Local and Reach Global — Assign frequently called international
phone numbers to a local Thai number to provide easy calling without
installing an App your mobile or device in your office.